Biomedical Informatics Entrepreneurs Salon: Iris Grossman, Eleven Therapeutics
January 26th, 2023 ~ 04:30pm - 06:00pm
Countway Library, Room 102 at Harvard Medical School in Boston or join us via Zoom (access the Zoom registration link via Eventbrite's "Online Event Page" after registering with Eventbrite).
A monthly conversation about medicine, biology, computers, and entrepreneurship, hosted by Harvard OTD and the HMS Dept. of Biomedical Informatics. Open to all.
Iris Grossman, Ph.D., Chief Therapeutics Officer of Eleven Therapeutics
Stay in touch! To receive invitations to future Salon events, join the mailing list.
Featured Speaker
Iris Grossman, Ph.D.
Eleven Therapeutics
Chief Therapeutics Officer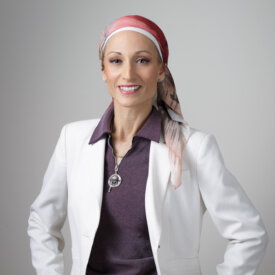 On the leading edge of Personalized Medicine, Big Data Analytics and BioPharmaceutical R&D for ~20 years, Iris is the Chief Therapeutics Officer of Eleven Therapeutics, where she oversees the strategy and development of novel RNA-based therapeutics discovered by the company's platform, which uniquely marries between combinatorial chemistry and A.I. to decipher the structure-activity relationship of durable, effective and safe respiratory and metabolic therapeutics. Prior to joining Eleven, Iris served in Chief Scientific Officer roles (CAMP4, Amide Technologies (acting)) and consulted for top VCs in the Boston area. Prior to that, Iris held leadership positions in, or consulted for top Big Pharma (GSK, Eli Lily, Takeda and Teva – where she was VP, Head of Early-Stage Development). She specializes in leveraging multi-dimensional genomic insights and eHealth as engines of therapeutic discovery, development and lifecycle management across a wide range of modalities and therapeutic areas. Iris serves as chairman of the SAB at BC Platforms, and as Strategic Scientific Advisor at Modulight.bi, and CGRP Diagnostics. Dr. Grossman earned her B.Sc. in medicine at the Technion, and a Ph.D. in medicine, population genomics and pharmacogenetics from the Technion, co-mentored with the Weizmann Institute. Her post-doc fellowship in Personalized Medicine and Population Genomics was completed at Duke university.
Press Contact: Kirsten Mabry | (617) 495-4157
All Events