Blavatnik Biomedical Accelerator
From innovation to impact
Biomedical research at Harvard has the potential to improve countless lives, revolutionize industries, and create immense social and economic value. Translating this early-stage research into compelling, validated technologies requires careful planning, focused resources, and a tireless pursuit of results.
The Blavatnik Biomedical Accelerator guides Harvard scientists toward translational impact by providing strategic, monetary, and advisory support for well-defined research projects. Our work is expressly aimed at hastening the pace of scientific progress, developing a shared vision with partners in industry, and ensuring that lifesaving technologies born at Harvard will become new products that impact the world for the better.
Read about the research projects recently funded or find out how to apply for funding in 2024.

Accelerating innovation to transform medicine
In this video created by the Blavatnik Family Foundation in 2020, learn how the targeted funding and strategic advising of the Blavatnik Biomedical Accelerator at Harvard University is helping Harvard scientists to understand disease and advance new treatments that may save lives.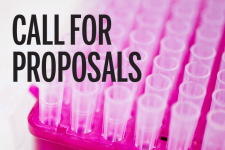 The Blavatnik Biomedical Accelerator was established through a major gift from the Blavatnik Family Foundation.
---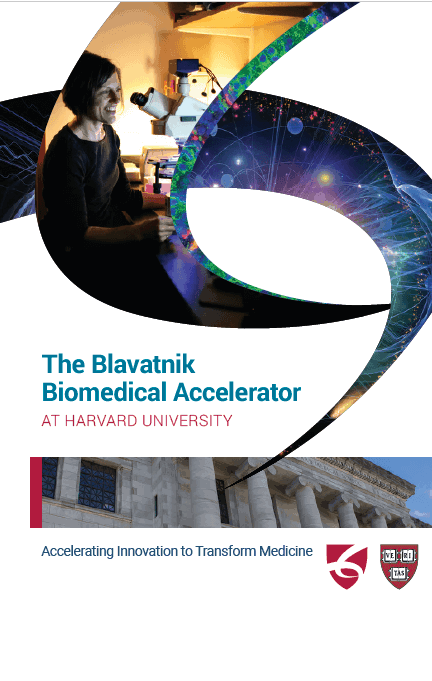 Proving the value of big ideas
The Accelerator seeks to support innovative, investigator-initiated research, and to develop preliminary observations into robust intellectual property positions. Its primary goal is to advance technologies to the point where an industry partnership can commence.
We employ a proven strategy of selecting projects with significant commercial potential, and providing financial support and domain expertise to fuel translational research, proof-of-concept, and technological development. We simultaneously build relationships with industry, generating partnerships and licensing opportunities, and facilitating startup formation and investment.
Learn more about our tried-and-true approach in the Blavatnik Biomedical Accelerator brochure (PDF).
---
The Blavatnik Biomedical Accelerator Advisory Committee
The Blavatnik Biomedical Accelerator Advisory Committee comprises academic thought leaders and accomplished members of the biopharma and life-science venture communities. This distinguished group provides critical input on project selection and oversight, helping to ensure that research work plans have been designed to drive results, add value, and effectively address key criteria for licensing.
KEVIN BITTERMAN, PhD
Partner
Atlas Ventures
ALEXIS BORISY
Operating Chairman
Curie Bio
Executive Chairman, EQRx
JON CLARDY, PhD
Hsien Wu and Daisy Yen Wu Professor of Biological Chemistry and Molecular Pharmacology
Blavatnik Institute at Harvard Medical School

CHRISTINA ISACSON, PhD
Partner
Lightstone Ventures
ANTHONY MANNING, PhD
Principal at Manning Bio Worldwide LLC
Previously Chief Scientific Officer, Momenta Pharma

DEB PALESTRANT, PhD, MBA
Partner, Head of 4:59
5AM Ventures
ARLENE SHARPE, PhD
George Fabyan Professor of Comparative Pathology, Chair of the Department of Immunology
Blavatnik Institute at Harvard Medical School
STEVE TREGAY, PhD
Managing Partner
Mission BioCapital
STACIE WENINGER, PhD
President
F-Prime Biomedical Research Initiative
---
New projects in 2022
In labs across Harvard University, 17 innovative research projects received new support from the Blavatnik Biomedical Accelerator in 2022. Our investigators are advancing crucial translational work in the areas of, inflammatory disease, neuroscience, oncology, and other areas. These projects are driving rapidly toward commercial partnership. To learn more, please contact us.
Inflammatory Disease

Vaginal Lactobacilli-Secreted Anti-Inflammatory Compounds
Smita Gopinath
Assistant Professor of Immunology and Infectious Diseases, Harvard T.H. Chan School of Public Health
Neuroscience

Validation of Targets for Treatment of Mood Disorders
Bernardo Sabatini
Alice and Rodman W. Moorhead III Professor of Neurobiology, Blavatnik Institute at Harvard Medical School
Oncology
Programmable, mutation-specific delivery of proteins
Markus Basan
Assistant Professor of Systems Biology, Blavatnik Institute at Harvard Medical School
Exploring LSD1-CoREST Degradation for Oncology
Brian Liau
Associate Professor of Chemistry and Chemical Biology, Faculty of Arts and Sciences
Small‐Molecule Screening Targeting an Important Ubiquitin Ligase Huwe1 In Cancers
Ying Lu
Assistant Professor of Systems Biology, Blavatnik Institute at Harvard Medical School

A Rapidly Diversifiable Trioxacarcin Pharmacophore as a Novel Antibody-Drug Conjugate Warhead
Andrew G. Myers
Amory Houghton Professor of Chemistry and Chemical Biology, Faculty of Arts and Sciences
Targeting ALDH3A2 for Cancer Therapy
David Scadden
Professor of Stem Cell and Regenerative Biology, Faculty of Arts and Sciences / Blavatnik Institute at Harvard Medical School; Gerald and Darlene Jordan Professor of Medicine, Harvard Medical School
Small Molecule ADAR1 Inhibitors for Oncology
Matthew Shair
Professor of Chemistry and Chemical Biology, Faculty of Arts and Sciences
Expansion of the Cyclimid Library for Targeted Protein Degradation Therapeutics
Christina Woo
Associate Professor of Chemistry and Chemical Biology, Faculty of Arts and Sciences
Other Areas
Bioprinting Functional Tissues through Better Bioink Design
Jennifer Lewis
Hansjörg Wyss Professor of Biologically Inspired Engineering; Jianming Yu Professor of Arts and Sciences Harvard John A. Paulson School of Engineering and Applied Sciences and Wyss Institute for Biologically Inspired Engineering at Harvard University
Aqueous Fluids with Permanent Microporosity for In Vivo Gas Delivery
Jarad Mason
Assistant Professor of Chemistry and Chemical Biology, Faculty of Arts and Sciences
Developing Non-Covalent Inhibitors to Target the NRF2-KEAP1 Interaction for NRF2 Activation
Gerhard Wagner
Elkan Blout Professor of Biological Chemistry and Molecular Pharmacology, Blavatnik Institute at Harvard Medical School