Blavatnik Biomedical Accelerator
A Track Record of Success
The original Harvard Biomedical Accelerator was launched in 2007 and expanded in 2013 as the Blavatnik Biomedical Accelerator at Harvard University, through the generosity of a major gift from the Blavatnik Family Foundation.
To date, it has provided more than $28 million in direct research support to 158 projects from across the University. Funded technologies have included therapeutics (oncology, metabolic disease, diabetes, immuno-inflammatory disease, infectious diseases, and neurodegeneration), diagnostics/biomarkers, instruments, and other biomedical technologies. The 25 new startups that have launched to commercialize Accelerator-funded innovations have collectively raised over $2.8 billion in equity financing.
In all, the Blavatnik Biomedical Accelerator's partnered technologies and collaborative research projects have generated more than $84 million in licensing revenue and research funding, supporting continued discovery and innovation at Harvard.
We are committed to continuing that record of success through targeted translational research funding and strategic support. The following success stories illustrate the compelling track record of the Blavatnik Biomedical Accelerator.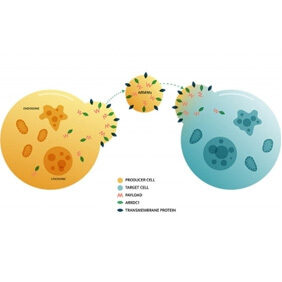 Intracellular Drug Delivery
With support from the Blavatnik Biomedical Accelerator, Professor Quan Lu harnessed the capabilities of newly discovered microvesicles called ARMMs to package and deliver large molecules (such as gene-editing complexes, RNA molecules, or other large proteins) to disease targets within cells.
Result: The innovations were licensed to Vesigen Therapeutics, a startup company which launched with $28.5M in Series A investment led by Morningside Ventures and Leaps by Bayer. The company aims to build out the ARMMs platform as well as to advance numerous therapeutic agents into preclinical and clinical development.
Tactile Hypersensitivity
Support from the Blavatnik Biomedical Accelerator enabled researchers led by Professor David Ginty to identify certain compounds that may point the way to a treatment for the touch hypersensitivity experienced by people with autism spectrum disorders.
Result: Lab1636, the R&D alliance between Harvard University and Deerfield Management Company, selected the Ginty Lab's innovations as the first project to be advanced through late-stage preclinical development under the alliance.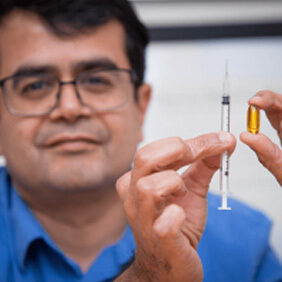 Oral Delivery of Therapeutics
With support from the Blavatnik Biomedical Accelerator, researchers in the lab of Prof. Samir Mitragotri developed an ionic liquid platform technology that can support oral solutions of a broad range of drugs including peptides, proteins, nucleic acids, and full-length antibodies.
Result: A startup, i2O Therapeutics, is exploiting the versatile properties of ionic liquids for the development of oral biologic therapeutics, with a focus on metabolic diseases, inflammatory diseases, and other indications.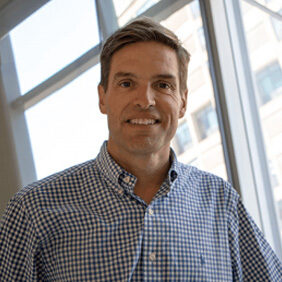 Cell Therapies "For Any Patient With Any Disease"
The Blavatnik Biomedical Accelerator funded research at Harvard led by Chad Cowan that used genome editing technologies to engineer human stem cells that appear benign to a transplant recipient's immune system rather than stimulating an immune response.
Result: A startup, Sana Biotechnology, is commercializing these hypoimmunogenic stem cells, aiming to develop novel cell therapies for safe transplantation into patients. In June 2020, Sana announced it had raised over $700M in initial financing.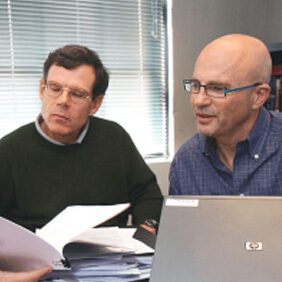 Startup to Treat Cough, Itch, Pain
Professors Bruce Bean and Clifford Woolf, with support from the Blavatnik Biomedical Accelerator, jointly identified a novel class of sodium channel inhibitors that inhibits signaling in activated pain or itch neurons but spares all other neurons.
Result: A startup, Nocion Therapeutics, was launched to develop novel pharmaceuticals that may provide targeted, robust and sustained relief for the treatment of serious medical conditions including cough, itch, pain and inflammation. The company has raised $27 million in Series A funding and was named among Fierce Biotech's "Fierce 15" in 2019.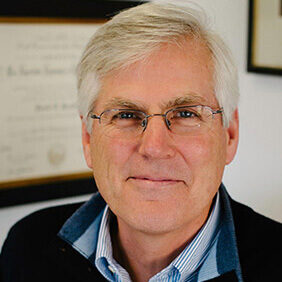 Blood Diseases and Immune Disorders
With support from the Blavatnik Biomedical Accelerator over two years, Professor David Scadden developed a milder method to carry out the bone marrow conditioning necessary in advance of hematopoetic stem cell transplantation.
Result: We completed a license agreement with Magenta Therapeutics, a startup company launched in Cambridge with a $48.5M Series A. The licensed portfolio of technologies has the potential to transform blood stem cell transplants from a "treatment of last resort" into a safer, more efficient therapy for patients with blood diseases and immune disorders.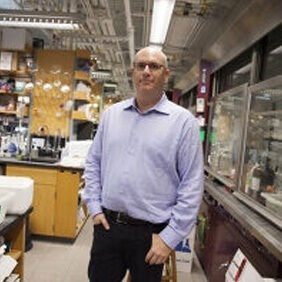 Cancer Therapeutics
Professor Matthew Shair discovered a novel therapeutic strategy for the treatment of AML—namely, to inhibit enzymes that regulate the transcription of key genetic programs that are altered in AML and other cancers. With accelerator support, Shair's laboratory has developed highly selective and potent small molecules, with favorable pharmaceutical properties, poised for advancement toward clinical trials.
Result: We executed a license agreement with Merck; the company also engaged in a research collaboration with the Shair laboratory to further investigate the biology of transcriptional regulator enzymes.
Antibiotic Platform Company
Professor Andy Myers developed a novel platform for antibiotic synthesis and, with accelerator funding, demonstrated total synthesis of a major class of antibiotics called macrolides, including a number of promising new structures.
Result: A startup, Macrolide Pharmaceuticals (now Zikani Therapeutics) launched out of the Myers lab and raised $22M in Series A financing. The company is developing novel antibiotics for the treatment of serious gram-positive and gram-negative bacterial infections.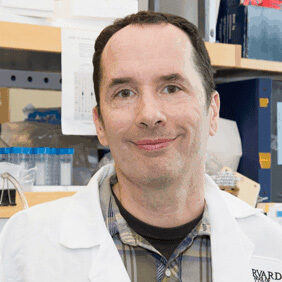 Anti-fibrotic Drug with Origins in Traditional Chinese Medicine
Professor Malcolm Whitman led a project investigating the anti-inflammatory and anti-fibrotic effects of halofuginone, a derivative of a compound found in blue evergreen hydrangea. With accelerator funding, he designed chemical modifications to halofuginone to reduce its side effects and identified the treatment of fibrotic diseases, including idiopathic pulmonary fibrosis, as a promising application.
Result: We launched a startup with Allied Bristol Life Sciences, a new enterprise formed by Allied Minds and Bristol-Myers Squibb specifically to advance biomedical innovations from leading academic research institutions.
Rotational Spectroscopy Instrument
Accelerator funding enabled Professor John Doyle to develop a biomedical instrument technology with pharmaceutical applications.
Result: The technology was licensed to BrightSpec, a company that produces rotational spectroscopy instrumentation that is used for molecular structure determination.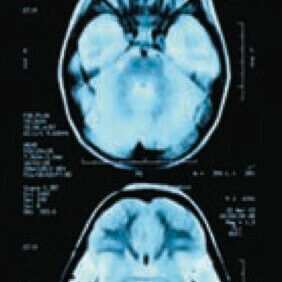 Increasing Degradation of Toxic Proteins to Treat Neuro-degenerative Diseases and Cancer
Through their research, professors Dan Finley and Randy King investigated the role of key enzymes in the cellular system for degrading proteins. Their hypothesis: that amplifying this system to remove accumulated toxic proteins that cause cell dysfunction and death could provide new avenues for treatment of Alzheimer's disease, Parkinson's disease, and cancer.
Result: Following 18 months of Accelerator-funded support and collaboration, the resulting technology was licensed to Proteostasis Therapeutics.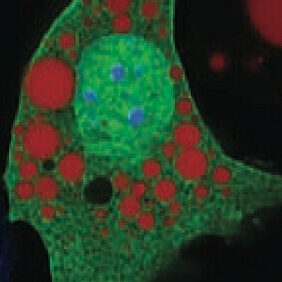 Improving Biomedically Important Molecules Using Fluorine
A major goal for pharmaceutical chemistry has been to develop effective methods to incorporate fluorine atoms into complex molecules. Professor Tobias Ritter's research focuses on realizing the numerous benefits fluorine can impart to drugs, including greater absorption from the intestine, increased stability in the body, and greater effectiveness at therapeutic protein targets.
Result: Accelerator funding helped Professor Ritter develop novel techniques and chemical reagents to achieve this goal, leading to the formation of SciFluor Life Sciences. The technology has potential for wide-ranging applications in multiple areas of pharmaceutical science and medicine, including novel therapeutics and imaging agents for disease diagnosis.
The drug development experience at the heart of the program provides advice that can be hard or impossible for academics to get otherwise; even those that have been around the block.