Past Event
Guppy Tank
January 31st, 2020 ~ 10:30am - 12:30pm
LabCentral, 700 Main Street, Cambridge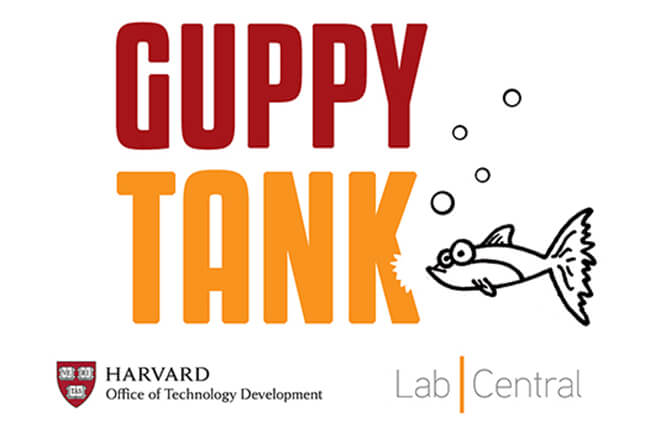 No sharks in these waters! Harvard's Office of Technology Development and LabCentral invite you to the latest event in the Guppy Tank series, where two teams of Harvard life-science innovators will pitch their super-early-stage concepts to a panel of entrepreneurs and investors for constructive, in-depth feedback. This "episode" features projects from the labs of George Church and Peter Park at Harvard Medical School.
Please note some changes: This month's event begins and ends earlier than usual, and will be located in an alternate event space at LabCentral called the Playroom.
Please join us on Friday, January 31, from 3:30 to 5:30 p.m. to hear the presentations, learn from experts on startup formation, and participate in giving audience feedback. The event is accompanied by a networking reception. All are welcome!
Pitches
GC Therapeutics: Using synthetic biology to program patient-derived cells into any cell type
Parastoo Khoshakhlagh, PhD, and Alex Ng, PhD, Research Fellows in the Church Lab, Blavatnik Institute at Harvard Medical School
Cell therapy, while in its early days, has the potential to regenerate damaged organs and tissues, revolutionizing how we treat a variety of conditions. Currently, stem cell differentiation is inefficient and time intensive. To solve this roadblock, Prof. George Church's lab has leveraged the entire human transcription factor library to identify specific combinations that drive differentiation into specific mature cell types. This synthetic biology technology platform, developed with support from the Blavatnik Biomedical Accelerator, programs human, induced pluripotent stem cells into potentially any differentiated cell type, with high efficiency and speed (up to 100% in 4 days). It is able to produce functional neurons, oligodendrocytes, astrocytes, vascular endothelial cells, stromal cells and many other cell types. GC Therapeutics, a startup emerging from the lab, intends to produce cell-therapy products ready for implantation, including oligodendrocyte progenitors for the treatment of multiple sclerosis and other myelin disorders.
SigMA: A computational algorithm to identify mutational signatures from sequencing data
Peter Park, PhD, Professor of Biomedical Informatics in the Blavatnik Institute at Harvard Medical School
Prof. Peter Park and his team from the Department of Biomedical Informatics have developed SigMA, a computational technology that identifies mutational signatures from sequencing data, which can be used to expand the number of patients who may benefit from specific treatment regimens. SigMA provides accurate detection of the mutational signature associated with a deficiency in the homologous recombination (HR) DNA repair pathway, using targeted sequencing panels. A mutation in the well-known BRCA1/2 gene results in HR deficiency, but there are other uncharacterized genes in the same pathway that also result in HR deficiency. Thus, this algorithm can identify a mutation even in cases without a BRCA1/2 mutation. A key advantage of this approach over alternatives is the ability to detect an HR defect signature from low mutational counts. Given that panel sequencing is a broadly utilized approach and has been performed on a large patient population, SigMA has the potential to vastly expand the number of patients that will benefit from treatments available for HR-defect tumors, such as PARP inhibitors, which have recently been shown to be efficacious in patients with a BRCA1/2 mutation. PARP inhibitors are likely to be efficacious in other patients with HR deficiency.
Tags: Guppy Tank
Press Contact: Kirsten Mabry | (617) 495-4157
All Events