Past Event
Biomedical Informatics Entrepreneurs Salon: Anne Wojcicki, 23andMe
November 8th, 2022 ~ 05:00pm - 06:00pm
Zoom; please register for details
A monthly conversation about medicine, biology, computers, and entrepreneurship, hosted by Harvard OTD and the HMS Dept. of Biomedical Informatics. Open to all.
Featured speaker: Anne Wojcicki, CEO and co-founder of 23andMe
Stay in touch! To receive invitations to future Salon events, join the mailing list.
Featured Speaker
Anne Wojcicki
23andMe
CEO and Co-Founder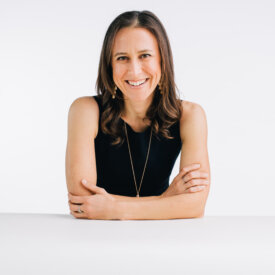 Anne co-founded 23andMe in 2006, three years after the first human genome was sequenced. Her goal was audacious: to help people access, understand, and benefit from the human genome and fundamentally change healthcare in the process. Prior to founding 23andMe, Anne spent a decade on Wall Street investing in healthcare and felt frustrated by a system built around monetizing illness instead of incentivizing prevention. She wanted to flip that model on its head and build a business that helps people prevent illness rather than profit from it. Anne focused on empowering people with direct access to genetic information so that they could use their data to make decisions that could lower their risks for disease. Under her leadership, 23andMe now provides the only personal genetic test with FDA authorization to deliver health information directly to consumers.

From the beginning, Anne's goal and 23andMe's mission has not wavered. Along with empowering consumers with health information, Anne wanted 23andMe to transform how research discoveries are made and revolutionize the development of treatments for disease. By inviting people to participate in research, 23andMe is able to crowdsource billions of data points resulting in the world's largest resource for genetic research. This novel, web-based approach has already resulted in thousands of new genetic insights and allows 23andMe to rapidly recruit participants to multiple studies at once, reducing the time and resources needed to make discoveries and is integral to 23andMe's mission of understanding and benefiting from the human genome This new approach to research also powers 23andMe's therapeutics group, which is helping to translate this knowledge into new treatments for serious unmet medical needs. In line with this, 23andMe is now also using its unique model to speed recruitment for clinical trials.

Anne is a pioneer in the direct-to-consumer DNA testing space and her vision and persistence have allowed 23andMe to provide people with unprecedented access to genetic information. Through its research platform, 23andMe has brought personalized medicine directly to millions of consumers.

Anne graduated from Yale University with a BS in Biology.
Tags: Biomedical Informatics Entrepreneurs Salon
Press Contact: Kirsten Mabry | (617) 495-4157
All Events