Past Event
Realizing the Impact of Your Research Through Startup Formation
January 13th, 2021 ~ 08:00am - 09:00am
Zoom; register for details
Harvard Office of Technology Development is pleased to support this presentation hosted by the National Black Postdoctoral Association.
Join us on Zoom for a roundtable discussion with Carmichael Roberts, PhD, founder and managing partner at Material Impact.
About the Speaker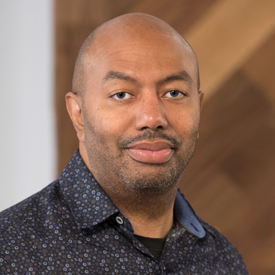 Carmichael Roberts, PhD, is Co-Founder and Managing Partner of Material Impact, a fund that seeks out transformative technologies and builds them into enduring companies that solve real-world problems. The fund's strategy is based on his successful career as an entrepreneur-investor in "materials," blending a unique business model of licensing university technology and commercializing it through targeted partnerships with Fortune 500 companies. His current investments include Soft Robotics and Zero Mass Water.
Carmichael is also member of Breakthrough Energy, a mission-oriented group committed to changing the world by creating and building companies that address the threat of climate change and long-term sustainability of the planet. As part of their work, Breakthrough Energy intends to invest over $1B over the next 20 years to help scale products for energy, transportation, agriculture, and construction, with a focus on big concept projects that promise the largest possible benefit to the earth's future.
Carmichael serves on the boards for the National Venture Capital Association, the Consumer Technology Association and Massachusetts General Hospital Physician Organization. Carmichael is a trustee of Duke University. In 1999, he was named by MIT's Technology Review as one of the world's top 100 young entrepreneurs.
His talk will focus on: (1) the opportunities and challenges of translating scientific research into products and startups that matter, as well as (2) his personal journey.
Experts-in-Residence
Carmichael is also a member of Harvard OTD's Experts-in-Residence (XIR) program. OTD's XIRs have a wealth of experience in company formation and leadership, intellectual property strategy, legal transactions, product development, regulatory affairs, marketing, corporate partnerships, and much more. To engage with an XIR, please simply contact us at OTD.
Press Contact: Kirsten Mabry | (617) 495-4157
All Events