August 19th, 2015
Bridging the biomedical development gap
Twelve advanced research projects aimed at developing new therapies and diagnostics receive support from Harvard's Blavatnik Biomedical Accelerator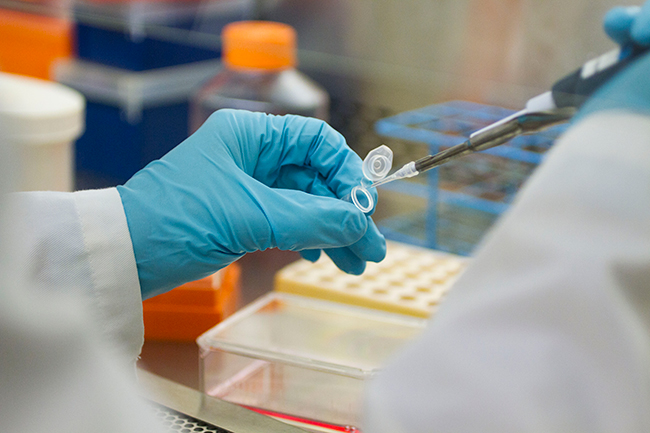 Photo by Amanda Swinhart/Harvard Staff Photographer.
---
A few years ago, Andrew Myers' laboratory discovered a new way to synthesize an important class of antibiotics that could one day tackle the toughest, most resistant infections.
"I knew we were onto something important," said Myers, Amory Houghton Professor of Chemistry and Chemical Biology, "but I couldn't get federal funding to take the idea any further."
Now, an effort to advance those antibiotic candidates is among 12 advanced research projects in laboratories across Harvard that will receive support through the Blavatnik Biomedical Accelerator.
"These projects represent leading-edge biomedical research at Harvard," said President Drew Faust. "Several of these researchers are pursuing new treatments for diabetes, leukemia, and serious infections. Others are creating faster, safer, and more affordable diagnostic tools. In each of these impressive projects, the patients' needs are at the heart of the endeavor. Their work exemplifies how universities like Harvard make substantive contributions to addressing global problems."
The Blavatnik Biomedical Accelerator was launched in 2007 by Harvard's Office of Technology Development (OTD) as the Biomedical Accelerator Fund, and expanded in 2013 through a major gift from the Blavatnik Family Foundation. The Accelerator helps ensure that when advanced academic research is still considered too early-stage for industry or venture investment, resources are available to develop the technology further and bridge the funding gap.
"Harvard's world-class biomedical research programs have all the right ingredients to produce profoundly impactful technologies in major disease areas," said Len Blavatnik, MBA '89. "The Accelerator helps Harvard's life science innovators combine their passion for discovery with the business expertise they need to see their ideas succeed in the outside world."
The 12 research projects receiving funding during 2015–16 span the Harvard campus and reflect the diversity of translational biomedical research at the University. Several researchers aim to develop new therapies for hard-to-treat diseases:
David Knipe, Higgins Professor of Microbiology and Molecular Genetics at Harvard Medical School (HMS), will develop a strategy to limit herpes simplex virus infections by targeting a protein that his lab has recently shown to regulate latent infection, helping prevent the virus from becoming active and causing more serious disease.
Matthew Shair, Professor in the Department of Chemistry and Chemical Biology, will develop novel small-molecule therapeutics targeting an enzyme recently implicated in obesity and cancer.
Chad Cowan, Associate Professor in the Department of Stem Cell and Regenerative Biology and Assistant Professor of Medicine at HMS, will use genome editing to address some fundamental limitations of new T-cell-based therapies that would treat various diseases including cancer.
Myers, the Amory Houghton Professor of Chemistry and Chemical Biology, will leverage a unique chemical platform to synthesize novel antimicrobial molecules and evaluate their potential for treating multi-drug-resistant bacterial infections.
Other researchers will address the challenges associated with delivering new treatments to the tissues that need them most:
Other promising projects will investigate more fundamental questions, hoping to identify areas where new drugs could make a difference:
Two other researchers aim to improve diagnostic and imaging technologies, providing valuable insight into a patient's current state of health:
Peng Yin, Associate Professor of Systems Biology at HMS and a Core Faculty Member at the Wyss Institute, will develop a diagnostic platform to quickly and accurately detect circulating tumor DNA in blood, providing a new non-invasive tool for cancer diagnosis.
Daniel Needleman, Associate Professor of Applied Physics at the Harvard Paulson School and Associate Professor in the Department of Molecular and Cellular Biology, will advance a noninvasive imaging technique to improve the success rate of assisted reproductive technologies such as in-vitro fertilization.
In addition to supporting early-stage, highly promising biomedical technologies in research laboratories across Harvard University, the Blavatnik Biomedical Accelerator is associated with a fellowship program at Harvard Business School. Through this fellowship, recent MBA graduates gain experience in life science entrepreneurship by engaging with the projects supported by the Accelerator. The Blavatnik Fellows in Life Science Entrepreneurship take up residence at the Harvard Innovation Lab (i-Lab) and participate in business development activities, forming new entrepreneurial ventures around emerging technologies when opportunities arise. The 2015-16 Fellows were named on August 17.
"The HBS Blavatnik Fellows are an outstanding group of entrepreneurs," said Vicki L. Sato, Professor of Management Practice at HBS, who oversees the HBS Blavatnik Fellows program and serves on the Accelerator's advisory board. "As HBS alumni with significant previous entrepreneurial experience, the Fellows bring business capabilities that can enhance the effective commercialization of exciting new technologies. The opportunity to work with excellent innovators in the context of the Harvard i-Lab represents a unique opportunity for the Blavatnik Fellows to launch great businesses."
To date, the Blavatnik Biomedical Accelerator has provided $12.5 million to support 68 research projects, approximately half of which have led to industry partnerships. Macrolide Pharmaceuticals, for example, was launched as a startup this year to commercialize antibiotic drug candidates developed in Myers' laboratory after he received Accelerator funding for that work in 2013–14.
Beside the Blavatnik Biomedical Accelerator, Harvard OTD manages the Physical Sciences and Engineering (PSE) Accelerator, a more nascent fund which has supported 10 projects since its creation in 2013. The PSE Accelerator helped launch three startups in just its first year, commercializing innovations in 3D printing, materials science, and robotics.
"The Accelerators provide essential funding for translational research," said Isaac Kohlberg, Senior Associate Provost and Chief Technology Development Officer. "Just as importantly, they foster an entrepreneurial culture in which innovation can thrive."
Tags: accelerator, Blavatnik
Press Contact: Kirsten Mabry | (617) 495-4157
---