December 14th, 2022
Harvard and 1955 Capital Collaborate to Launch Surgical Robotics Startup
RoboBee project's micro-fabrication technique pollinates surgical breakthroughs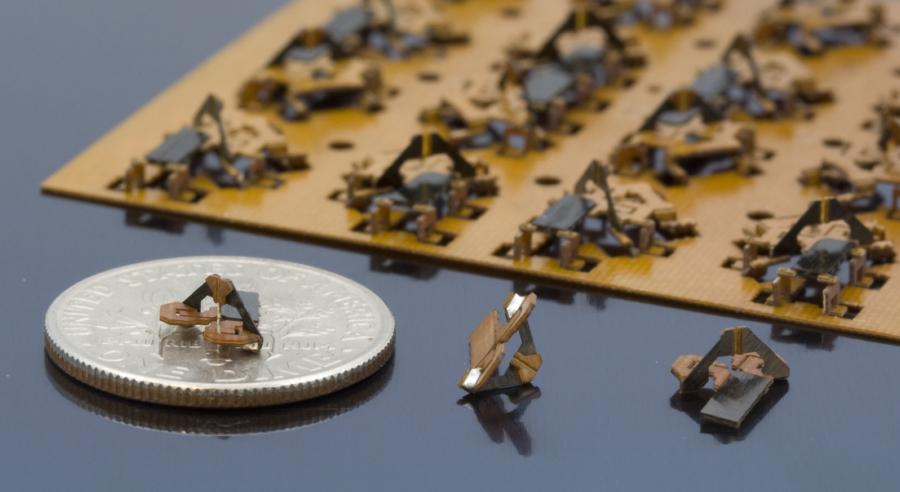 When a tiny mechanical insect achieved flight in the summer of 2012, its wafer-thin wings flapping almost invisibly at a rate of 120 times per second, it was the culmination of an ambitious engineering effort.
The first controlled flight of the RoboBee in the Harvard Microrobotics Lab of Prof. Robert Wood, relied on hard-won breakthroughs in design, materials, and manufacturing.
In the early days of the National Science Foundation-sponsored project, researchers would painstakingly manipulate tweezers under a microscope to assemble the tiny parts and joints of the bee-sized robots. Searching for a less error-prone way to quickly and efficiently produce RoboBee prototypes, they found inspiration in children's' pop-up books and origami.
A decade later, the ingenious layering and folding process that enabled the fabrication of complex devices at the millimeter scale – and the flight of the RoboBee – is the basis for a new company that aims to tap into the minimally invasive robot-assisted surgical space, a market that is projected to grow from $1.5 billion in 2018 to $6.9 billion by 2026, according to Fortune Business Insights.
While there is no typical path for converting promising technology into successful startup, the formula usually involves pitching a business plan to secure seed funding. The new company based on Wood's pop-up manufacturing platform, currently called Project 1985, followed a decidedly different track.
"We didn't have a well thought out, well-polished pitch, with market research," said Wood, the Harry Lewis and Marlyn McGrath Professor at the Harvard John A. Paulson School of Engineering and Applied Sciences (SEAS). "We had a hammer and were looking for the nail."
The gears were set in motion by SEAS Dean Frank Doyle and alumnus Andrew Chung, the founder and managing partner of venture firm 1955 Capital. As a member of the Dean's Advisory Cabinet, Chung has drawn on his 20-year track record of funding successful tech companies to advise on initiatives to foster increased entrepreneurship at SEAS. After being introduced to Wood and his varied research portfolio, Chung recognized an opportunity to do exactly what he had been advocating – help SEAS researchers commercialize research for broader impact.
It was apparent to Chung that Wood's pop-up fabrication techniques could enable much smaller, more nimble surgical robotics tools than are currently available, and the idea for a new company was born. To further develop the idea, Chung consulted with two 1955 Capital colleagues, Dr. Euan Thomson and Dr. Vijit Sabnis. Previously partners at Khosla Ventures, the trio has studied the robotics space over the past decade; Thomson led the commercialization of a robotics technology in oncology as CEO of Accuray and Chung led 1955's investment in the Series A round for Noah Medical, a leading medical robotics company.
"Surgical robots have already made an impact on millions of lives around the globe, including my father, who was cured of cancer via a robotic-assisted surgery," said Chung. "But we're only scratching the surface. Most robotics companies seek to reduce the size of their devices by 10 or 20 percent. What if you can reduce the size by 90 percent? Much more of the human body can open up to robotic procedures, and the possibilities may only be limited to the clinician's imagination. We hope to start a movement that fundamentally transforms surgery as we know it."
Next, Chung brought in another 1955 Capital colleague, Katie Anderson, a biomedical engineer with years of experience in surgical robotics, to help formulate a path for moving Wood's intellectual property into a commercial product.
Through this organic process, Project 1985 was formed. (The name derives from the year in which PUMA, a robot that was formerly used for industrial tasks, was used for the positioning of a biopsy cannula in the world's first robotic-assisted surgery.)
Creating the startup required a close working collaboration between 1955 Capital, Harvard's Office of Technology Development (OTD), the research team, and SEAS. An important goal was to continue important academic research within the Wood lab to advance the pop-up fabrication platform for use in surgical applications. Doing so would establish a pathway to de-risk the technology, identify promising clinical use cases, and position the startup for follow-on investment. OTD negotiated a licensing agreement for the new company.
"The company was launched not with a particular product in mind, but with general categories of potential products and a set of open questions to be answered," Wood said, "How small can we make a device? How physically robust can we make it? Can we integrate new materials into our platform? Are there bioinspired actuation strategies that we could exploit?"
To answer these questions, OTD worked with the company to enable a translational research project for further prototype development and proof-of-concept research. SEAS alumnus Michael Karpelson (who was Wood's first PhD advisee) was tapped to lead the sponsored research project, which leverages the team's accumulated expertise and the specialized experimental capability of the SEAS robotics group.
Anderson, the surgical robotics veteran who leads the startup, sees huge potential for more minimal, smaller access to the human body. "Human hands are so big and human eyes are only so good," she said. "With current technology, we can give surgeons superpowers – enhanced 3D vision and 5-milimeter hands that can reach way into the body. With microrobotics, we can think about not only helping a surgeon perform an existing surgery better but exploring new ways to do procedures. We see massive potential here which aligns directly with 1955's mission of investing in groundbreaking innovations that help solve the world's problems."
Initially, the team will explore potential applications in several specialties that might have promise, including neurosurgery, urology, and lung surgery.
"Most companies start with a need. Here, we see potential," Anderson explained.
"This venture is the result of the fortuitous marriage of highly translational research and an engaged, sophisticated investor," said SEAS Dean Doyle. "In creating a startup from whole cloth, the team has set the stage for new surgical advances that could benefit countless patients."
Media Contacts
Harvard
Paul Karoff
781-264-7298
karoff@seas.harvard.edu
1955 Capital
James J. Olecki
917-446-5365
j2oadvisors@outlook.com
Tags: NSF, ARO & AFOSR, DARPA, EurkAlert, Galileo, Gazette, Crimson, SEAS
Press Contact: Kirsten Mabry | (617) 495-4157
---