December 17th, 2015
Soft Robotics gets $3 million amid demand for its octopus-inspired grippers (Beta Boston)
Cambridge-based startup is commercializing technology from the Harvard lab of George Whitesides
By Curt Woodward, Beta Boston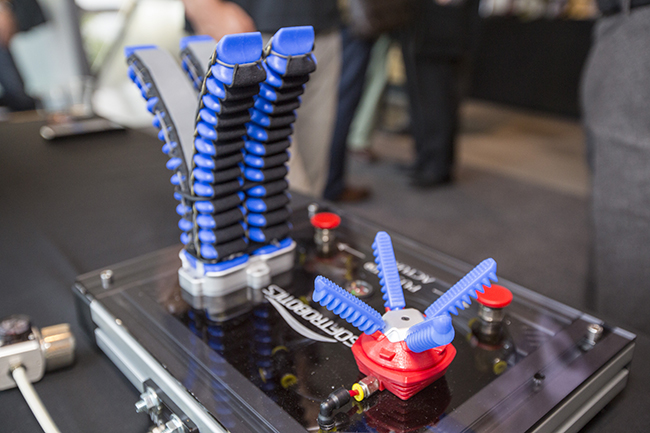 Soft Robotics presented its technology at a Harvard robotics showcase in May 2015. (Photo by Eliza Grinnell.)
---
Robots can perform an astonishing number of tasks for us, but they're still not the most graceful machines ever built.
A Cambridge startup trying to solve that conundrum, Soft Robotics, has raised $3 million from venture investors and expects to add another $2 million in the next couple of months, chief executive Carl Vause said.
The money will help Soft Robotics double its five-person company, Vause said, allowing it to handle more customers seeking its octopus-inspired robotic grippers for the manufacturing and food-processing industries.
"It's been a whirlwind ride," Vause said. "We've really hit on this unmet need of, how do we enable robots to handle things that vary in size and shape and weight? There's pent-up demand."
Soft Robotics was born out of research at the lab of George Whitesides, a Harvard chemist and prolific inventor who wanted to help build a new kind of flexible robot after seeing footage of an octopus squeezing through a small opening.
Soft Robotics was founded in 2013, and at first was fueled by money from the Defense Department in hopes of making surgical tools.
The company quickly turned its attention, however, to warehouse and assembly line markets — particularly in the food industry, where robots aren't typically trusted to handle delicate items like fresh produce. Its fingerlike grippers are made of flexible material, such as silicone, and powered by compressed air.
"There's a reason the squid, the octopus, and the human hand work so well," Vause said. "They're fantastic structures."
Read the entire article in Beta Boston
Tags: george whitesides, robotics, Startups
Press Contact: Kirsten Mabry | (617) 495-4157
---