December 16th, 2015
No sharks in these waters
Two emerging life-science ventures draw a crowd and elicit substantive expert feedback at "Guppy Tank" event
By Caroline Perry, Office of Technology Development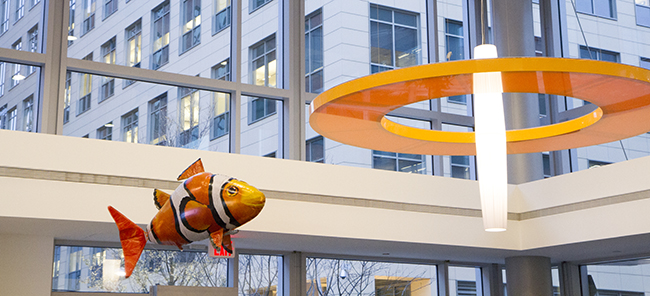 Floating fish circled the lobby at LabCentral during "Guppy Tank."
---
Cambridge/Boston, Mass. – John Collier has spent his entire career studying how some of the deadliest bacteria deliver their toxins into human cells. Diphtheria, cholera, botulinum, anthrax—all of these produce enzymes that cross cell membranes despite the large size of the molecules. Research Collier conducted as Maude and Lillian Presley Professor of Microbiology and Immunobiology, Emeritus, at Harvard Medical School (HMS) has been crucial to explaining how these pathogens take hold, but it also now has an opportunity to adapt bacterial tricks for good use.
In collaboration with Brad Pentelute at MIT and inspired by a new understanding of the anthrax toxin, Collier has created a nanomachine that delivers useful proteins into targeted cells. The engineered structure looks like a mushroom: the drug molecule starts on the cap, unfolds and passes through the stem, enters the cell, reassembles within, and performs its therapeutic duty. The challenge, now, is to identify the best way to make this technology accessible to clinicians who could use it.
Collier's research, and another project led by Sandeep Robert Datta, Assistant Professor of Neurobiology at HMS, were both featured at the "Guppy Tank" event on December 1, the first in a series jointly hosted by Harvard's Office of Technology Development (OTD) and LabCentral in Cambridge.
Though inspired by the television series "Shark Tank," the event presented the two emerging technologies to a panel of industry experts and asked not whether these promising projects should proceed, but how.
"Our technologies are generally at a very early stage of development; they're not really ready to 'swim with the sharks,'" said Grant Zimmermann, a director of business development in OTD. Rather than unveiling fully formed companies at the event, he said, "We're bringing the audience to our bench, to our early science, to our questions and our challenges, both on the science side and on the commercialization side."
Many years' effort produced the research on display, yet technologies that are considered highly developed in an academic context actually tend to be at a very early stage in terms of their path to commercialization. That's especially true in the life sciences. As such, the event consisted in giving each of these projects not a fate-sealing thumbs-up or thumbs-down, but a full hour's worth of substantive, expert feedback to guide their further development.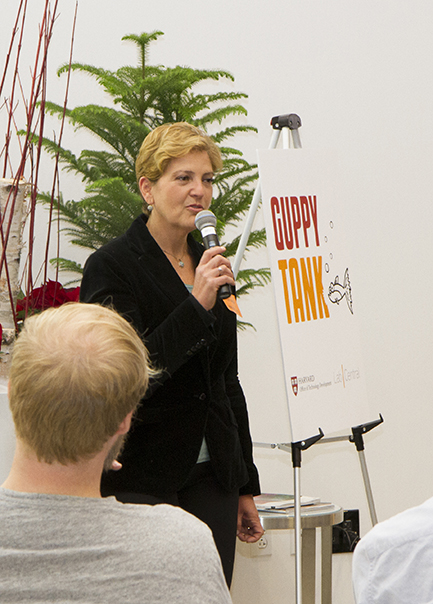 "We work every day at OTD with Harvard faculty to identify opportunities that could have an impact on public health and public good," said Michal Preminger (pictured), a director of business development and executive director of OTD's HMS branch, welcoming the standing-room-only audience. She urged the panel to think pragmatically rather than taking a harsh 'sink or swim' attitude to the projects. "We're not looking to hear how it's going to be difficult," she added, "because we will stick with it no matter what."
On the panel were a respected cast of experts in biomedical research, entrepreneurship, and venture capital: Steve Tregay, founder, president, and CEO of FORMA Therapeutics, who serves on the board of LabCentral; Avi Spier, director of strategic alliances at Novartis Institutes for Biomedical Research; Ari Brettman, AB '04, an associate at Clarus Ventures; Craig Sorensen, vice president for external research at Vertex Pharmaceuticals; and Alan Crane, AB/MA '86, MBA '92, partner and entrepreneur at Polaris Partners.
The panel dived straight into the details, seeking to understand exactly how Collier's and Pentelute's nanomachine identifies the target cells and how it can be engineered modularly to unfold and deliver molecules of interest. Naturally, among their first questions was, does it work? Pentelute rattled off four successful demonstrations in quick succession. The panel discussed safety—how long does it survive in the body?—and described the type of validation tests they would look for as prospective investors. Perhaps most importantly, the panel weighed in on what they saw as the most promising applications, as the team has considered oncology, gene therapy, and other uses.
"We want to identify one significantly better path before we raise any money," said entrepreneur Davide Marini, one of the project's advisers.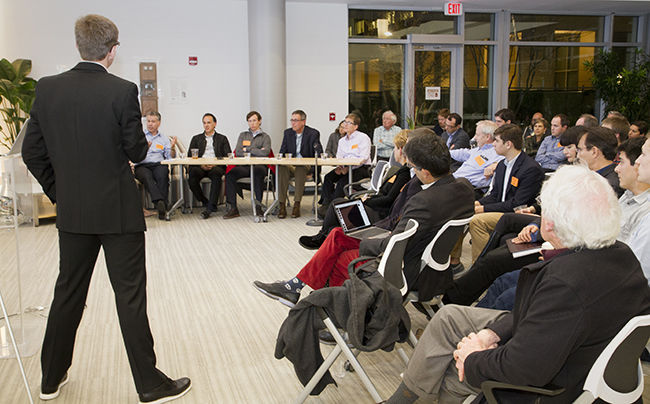 Harvard researchers presented innovations in microbiology and neurobiology to a panel of industry experts at the "Guppy Tank" event on December 1.
---
Two researchers leading the second project—Datta, the neurobiologist, and HMS graduate student Alex Wiltschko—sought similar guidance on where to focus their efforts.
In Datta's lab, they have used a Microsoft Kinect "and four years and several million dollars" to record and catalog the movements of mice. The research has generated a structural understanding of animal behavior so rich it can be compared to a language, where each syllable is a tiny movement, and each sentence is a behavioral pattern. (A paper published December 16 in Neuron describes the research in depth.)
Infused with bioinformatics expertise and machine learning techniques, the lab's resulting platform can quickly tell apart a typical mouse from one with a model of autism spectrum disorder. It is so refined and so precise that it can even watch a mouse for 10 to 15 minutes and recognize what drug, and what dose of that drug, is in the animal's system.
Prof. Datta describes the work of his laboratory. (Video courtesy of Harvard Medical School.)
---
Heading into the event, Datta knew his lab's technology held significant promise both as a research tool and as a method for potentially diagnosing motor disorders in humans. Much of the challenge in technology development, however, involves figuring out where to focus one's efforts, and the panel discussion suggested that there could be significant benefits to steering the research toward human trials. Could the system be used to diagnose autism in a young child? Could it watch for suspicious behavior at security checkpoints?
"The advice I received was to think hard about ways to translate our advances in understanding mouse behavior into humans," Datta said, "and to think about how changes in behavior that we observe in model organisms might reflect changes in behavior that are observed in actual human patients."
"It was great; I had a lot of fun," he said. "I think it reassuringly reinforces the idea that much of the power in what we're doing will come from using these tools to explore organisms across the evolutionary ladder."
"I think Bob left here very much encouraged," Preminger said.
The next "Guppy Tank" event is scheduled for March 1, 2016, at LabCentral (700 Main Street, Cambridge).
Johannes Fruehauf, founder and president of LabCentral, noted the importance of community events for early-stage startups. "They have an opportunity to learn from the others, to hear from experts, and to also benchmark their own practices against what other people are doing," he said. "We hope that this will improve their likelihood of success."
Tags: bob datta, entrepreneurship, guppy tank, hms, john collier
Press Contact: Kirsten Mabry | (617) 495-4157
---