Faster testing for illicit drugs

Researchers in the Whitesides lab have developed a portable and easy to use Magneto-Archimedes Levitation (MagLev) device for identifying the composition of illicit drug mixtures. A diamagnetic sample (in this case, an unknown drug mixture) is placed in a paramagnetic liquid, and the MagLev device applies a direction force, causing the sample to levitate at a specific height. This technique can be used to separate and identify the components of an unknown mixture of illicit drugs based on their height profile. The method is insensitive to small changes that occur in drug analogs, making it a useful tool to analyze often-changing illicit drugs.

The method is also non-destructive, so separated samples can be isolated and submitted to additional downstream analysis. FTIR-ATR is highly complementary technique to MagLev; both methods are portable, require little training to use, and work well with powdered compounds. Additionally, MagLev compensates for the low sensitivity of FTIR-ATR in complex mixtures by separating and concentrating fentanyl or other compounds of interest.

MagLev is a simple, portable, and yet powerful tool that could aid in the detection of new designer drugs, unconventional mixtures of drugs, fentanyl-laced drugs of unknown concentrations, and harmful adulterants on the illegal market.

This work was published in Angewandte Chemie International Edition and featured in the Harvard Gazette.
Intellectual Property Status: Patent(s) Pending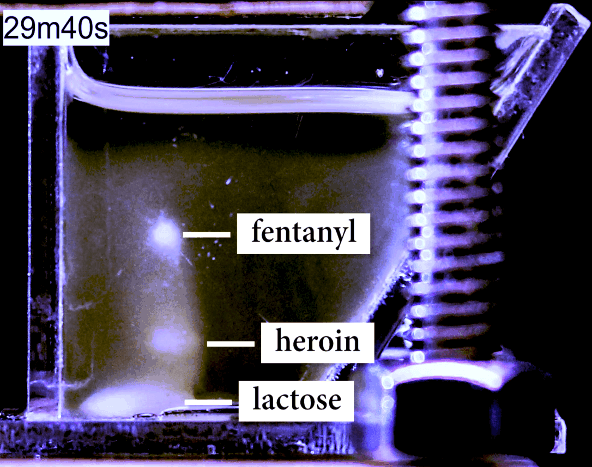 The MagLev device can separate unknown mixtures of drugs for identification. Image courtesy of the Whitesides Lab.